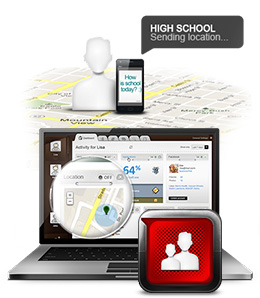 Bitdefender Parental Control
Online safety for your kids
Kids face a multitude of dangers while online. As a parent using Bitdefender Parental Control, you`ll gain insight into their online interests, and be better prepared to protect and guide their online activities.
Websites blocking & monitoring
Apps control
Mobile phone tracking
IM blocking & monitoring
Location tracking
Facebook monitoring
Available for:

"An impressive parental control system to manage the websites traffic,
instant messaging, and enhanced Facebook tracking"
July 2013 | PC MAG | The New Internet Security
*Parental Control is featured in The New Internet Security
How it works
Follow these simple steps to start and configure your Parental Control

Install the agents on your kids` devices
Complete profiles for your children
Add devices to the created profiles
Monitor all the activity on these devices
Social networks tracking

Monitor your kids' Facebook account and log their activity and conversations with strangers through the Parental Control software.

Comprehensive activity reports

Track your kids' online activities (including all websites they visit, or attempt to visit) and block malicious or offensive content with Bitdefender Parental Control

Mobile phone tracking

Identify potential harmful conversations, mobile apps, and suspicious contacts anytime, anywhere!
Websites & Apps Blocking and Monitoring

Free & Premium

Because you can't be there 24/7, Bitdefender Parental Control allows you to see what web sites your kids are visiting, as well as what apps they are using. Enabling you to block both, you'll protect your kids from potentially inappropriate topics by selectively filtering content.

SMS & Calls Application Blocking & Monitoring

Free & Premium

With Bitdefender Parental Control, you have the ability to block suspicious contacts on your kids' mobile devices, in addition to keeping a close eye on all incoming and outgoing SMS and calls.

Instant Messaging Blocking & Monitoring

Free & Premium

Supervise your kids instant messaging to keep him safe from online bullies. In addition to blacklisting specific IM contacts (Yahoo! Messenger), you can also block incoming messages based on specific keywords.

Social Network Tracking

Premium

Bitdefender Parental Control gives you a comprehensive oversight of your kids' social network activities. You'll be updated on everything from new friend requests, comments, pictures, and videos, to changes in privacy settings.

Location Tracking

Premium

If you having a hard time reaching your kid, you can always check his location to make sure he's in a safe area. Knowing where he is helps you stay worry-free.

Activity Reports & Alerts

Free & Premium

Choose to receive daily, weekly, or monthly activity reports and notifications on an hourly basis, regarding your kids' online activities. Everything from websites they visited, what they search for, who they chat with or what SMS messages they received and from whom, will be easily be reported back to you.

Activity History

Premium

Ever had the feeling your kids spend too much time online? View their Activity History to get a snapshot of their online activities, who they communicate most often with, and on what websites they spend most of their time.
+ Load More Features
System requirements:

Minimal system requirements: Operating system: Microsoft Windows XP SP3 (32 bit) , Vista (SP2), Microsoft Windows 7 (SP1), Microsoft Windows 8 ;CPU: 800MHz processor; Memory (RAM): 1GB; Available free hard disk space: 1.8 GB free space (at least 800 MB on the system drive)
Recommended system requirements: Operating system: Microsoft Windows XP SP3 (32 bit), Vista (SP2), Microsoft Windows 7 (SP1), Microsoft Windows 8; CPU: Intel CORE Duo (1.66 GHz) or equivalent processor; Memory (RAM): 1 GB (Microsoft Windows XP), 1.5 GB (Microsoft Windows Vista, Microsoft Windows 7 and Microsoft Windows 8); Available free hard disk space: 2.8 GB free space (at least 800 MB on system drive)
Software requirements: Internet Explorer 8 and higher; .NET Framework 3.5 (automatically installed by Bitdefender if necessary)
Supports/Integrates with: Yahoo Messenger 8.1 and higher, Firefox 3.6 and higher, Chrome 17.0.963.56 and higher
+ System Requirements
- Collapse System Requirements
Bitdefender Parental Control
FREE
PREMIUM
Reporting visited websites and apps




Monitoring IM (Yahoo Messenger) contacts





Location tracking (based on GPS)

Blocking visited websites and apps

Blocking IM (Yahoo Messenger) contacts




Daily, weekly reports and alerts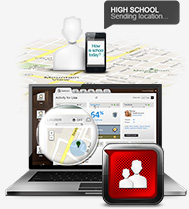 Bitdefender Parental Control
Online safety for your kids