Protecting all virtualization technologies
Security for Virtualized Environments by Bitdefender is the first comprehensive security solution for virtualized datacenters. The solution protects virtualized Windows, Linux, and Solaris systems, both servers and desktops. While integrated with VMware vShield, the unique architecture of the solution allows it to be leveraged when using any system virtualization offering.
As organizations increase consolidation ratios, security products designed specifically to address the challenges encountered in virtual environments become critical. The architecture of Security for Virtualized Environments allows organizations to maximize the return on investment that is realized in their datacenter. The award-winning security of Bitdefender delivers critical protection to critical systems.
Protect VMware and any other virtualization technology
Security for Virtualized Environments (SVE) is the first comprehensive security offering that has been architected for the dynamic and heterogeneous datacenters of today. When installed in VMware environments, SVE takes advantage of vShield Endpoint. However, SVE is not dependent on the virtualization technology; it protects environments that are powered by any virtualization technology. Further, SVE protects not only Windows servers and end-user systems, but also Linux and Solaris systems. This unmatched coverage is the result of unique Bitdefender innovation.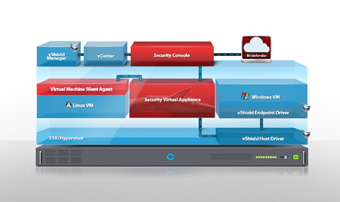 Realize the full potential of virtualization
Security for Virtualized Environments by Bitdefender leverages a unique architecture that allows many scanning functions to be centralized. By centralizing these functions on a hardened, Linux-based virtual appliance, the solution effectively deduplicates anti-malware load associated with updates, management, and scanning.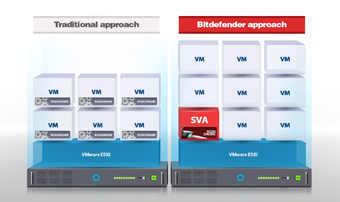 *Protection against malware infections, AV-Test, March 2011. AV-Test GmbH is the leading service provider for IT security testing and consultancy services with more than 15 years of experience.
The Virus Bulletin's VB100 tests focus on virus detection rates and scanning speed, as well as looking at how each product fares when scanning set files that are known to be clean. The product tested in February 2011 was Bitdefender Security for Samba 3.1.2.