Let's see how you can repair the Microsoft .NET Framework package when it's corrupted and prevents Bitdefender VPN from running properly on your Windows computer.
Fix "Your .NET Framework is corrupted" error in Bitdefender VPN for Windows
If Bitdefender VPN is not functioning properly, there might be an issue with the installed Microsoft .NET framework component. A message informing you that .NET framework is corrupted will also be displayed in the VPN interface.
To repair Microsoft .NET Framework follow the steps below.
Step 1:  Uninstall the Bitdefender VPN application
First, you need to uninstall Bitdefender VPN from your PC:
• Go to your PC and click the Windows Start menu  
  in the lower-left corner of the screen. 
• In the search box, type APPWIZ.CPL then click OK or press Enter on your keyboard.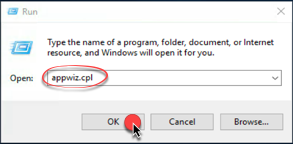 • This will bring up Uninstall or change a program in Control Panel.
• Locate the Bitdefender VPN product in the list of installed programs, right-click on it and choose Uninstall.
• Follow the on-screen steps to complete the uninstallation.
Step 2:  Repair Microsoft .NET Framework
Next, download and run Microsoft .NET Framework Repair Tool.
This tool will perform a repair on .NET Framework to troubleshoot common issues with the setup or the installed version of Microsoft .NET Framework.
Step 3:  Restart your PC
After the tool is finished repairing Microsoft .NET Framework, restart your computer.
Step 4:  Install Microsoft .NET Framework 4.5.2
Now your system is ready to install a fresh copy of Microsoft .NET Framework 4.5.2.
Once you reach the Microsoft site linked above, click the Download button. Wait for the download to complete and then run it.
Step 5:  Install Bitdefender VPN again
Finally, you can go ahead and install Bitdefender VPN back onto your PC without running into Microsoft .NET Framework errors. To install Bitdefender VPN on Windows:
• Download the Bitdefender VPN installation kit.
• Locate the Bitdefender installer saved on your computer, then double-click on it to run it.
• Follow the on-screen steps to complete the installation process.